Divadlo 29 / Theatre 29
Divadlo 29 / Theatre 29 is the municipal open cultural centre.
Its name revers to the spaces and activities organised in a building in the historical centre of Pardubice.
Divadlo 29 has been supporting all genres of contemporary non-commercial art since 2002. It also offers production support for new works of art, provides meeting rooms and helps establish cultural links within and outsider the region.
Divadlo 29 is the only stage of its kind in Eastern Bohemia. It also organises several cultural events spanning the entire country (Jeden svět / One World, dance festival Tanec Praha / Dance Prague etc.).

Divadlo 29 works closely with the Terra Madoda association.

Divadlo 29 is a part of the city funded Cultural Centre but its programme and organisation are independent.

Divadlo 29 / Theatre 29 * Hall

The most of projects of Divadlo 29 take place in the multifunctional theatre hall.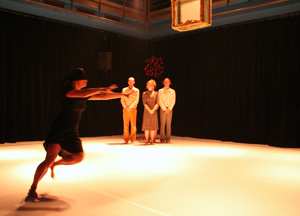 Klub 29
Klub 29 is an extending space of Divadlo 29. It runs as a café, bar, gallery and as a chamber scene of Divadlo 29.
Klub 29 offers public free wi-fi access.
www.divadlo29.cz/klub


Studio 29


Studio 29 makes for developing activities of Divadlo 29 and its cooperative organisations. Studio 29 works as a space for residents, volunteers, as a space for organizing seminars and workshops.